HanAll Biopharma is transforming for patients
With humble beginnings as a pharmaceutical producer in 1973, HanAll Biopharma has come a long way, expanding its reach and impact in the Korean market by providing affordable medicines to patients. Fast forward to today, HanAll Biopharma has made remarkable strides in the global biopharma industry with its promising pipeline, which has the potential to make a meaningful contribution to patients' lives.
2002-2019
From a traditional pharmaceutical company to a biopharma company
In the early 2000s, HanAll Biopharma boldly underwent a transformation to become a biopharmaceutical company,
setting up cutting-edge laboratories in Seoul and Suwon and incorporating HanAll Pharmaceutical International (HPI) in Maryland, USA.
During this period, Seung-kook Park, the head of Daewoong Pharma's biolab, who led the development of Easyef Solution, joined HanAll,
bringing with him invaluable expertise in the field of biotechnology.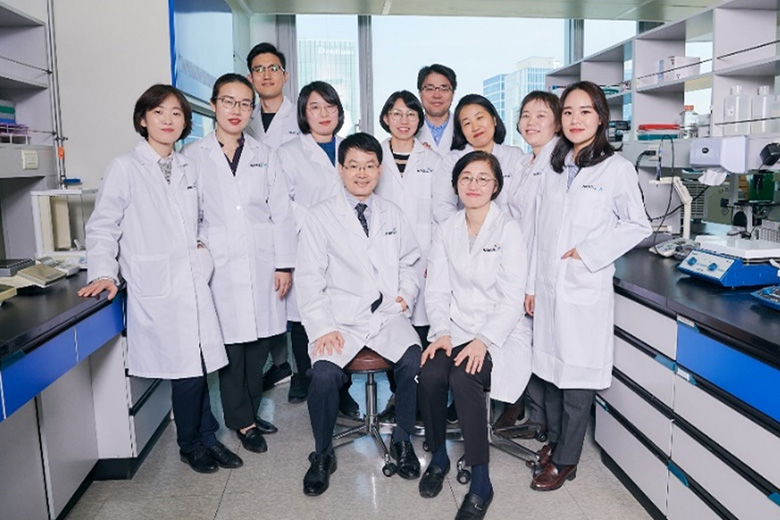 (HanAll Biolab)
In a move to bolster its R&D capabilities, HanAll formed a partnership with Nautilus Biotech, a French biopharmaceutical company, in 2007.
The company later acquired Nautilus in 2009 and integrated Resistein, an amino acid engineering technology that has since become a critical component in its pipelines. HanAll Biopharma allocates an impressive 15% of its annual sales earnings towards R&D initiatives and prioritizes research and development as part of its business model.
In fact, the company ranked second among all pharmaceutical companies in terms of R&D investment as a percentage of sales in 2012.
HanAll's unrelenting dedication to developing new drugs paid off after entering into a joint management with Daewoong Pharmaceutical in 2015.
The company made headlines in 2017 when it signed license agreements for its anti-FcRn asset HL161 with Harbour BioMed and Roivant Sciences, securing Korea's largest-ever antibody drug out-licensing contract worth $525 million with the latter. HanAll's impressive achievements have been widely recognized, with the company receiving multiple awards, including the Prime Minister's Commendation for the Korea New Growth Management Grand Prize in 2017 and the Korea New Drug Development Technology Export Award in 2019.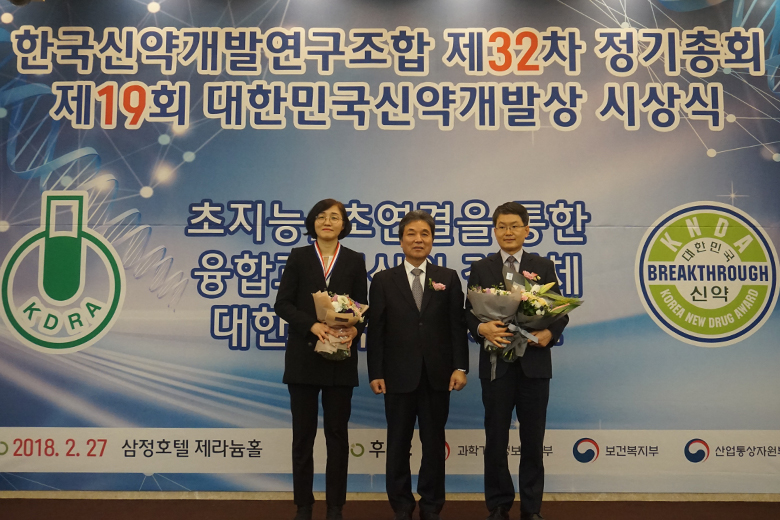 (Presentation of Korea New Growth Management Grand Prize, 2017)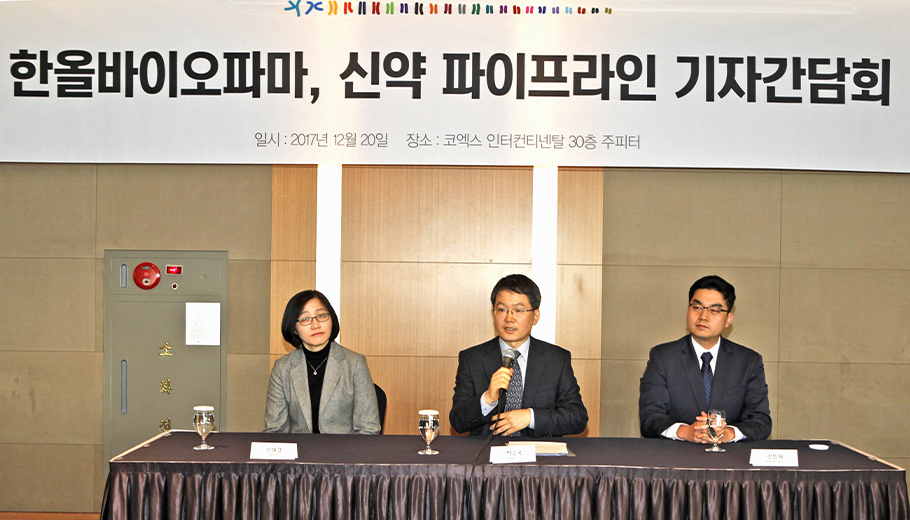 (HanAll Biopharma-Harbour BioMed Technology Export Agreement Signing Ceremony, 2017)
2019

Oct

Obtained ISO 37001 certification

2018

Sep

Received the 'GE Edison Award', the best biopharmaceutical award in Korea

Apr

Received the Presidential Commendation on 'Science Day'

Feb

Won the Korea New Drug Development Award for technology export

2017

Dec

Signed a license agreement for autoimmune disease antibody drug(HL161) with Roivant Sciences

Dec

Received the Prime Minister's Award in the Science and Technology category for Korea New Growth Management Awards

Sep

Signed license agreement with Harbour BioMed in China for HL161 and HL036

2016

Dec

Obtained certification from Pharmaceutical Inspection Co-operation Scheme (PICs)

Oct

Enters joint development agreement for immune-oncology antibody drug with Daewoong Pharmaceutical

Apr

Invested in injection manufacturing facility in Chungbuk Osong Life Science Complex

Mar

Enters joint development agreement for HL036, a treatment being developed for dry eye disease with Daewoong Pharmaceutical

2015

Aug

Entered joint management with Daewoong Pharmaceutical

Jul

Spun off anti-cancer research projects to IMMUNOMET

Feb

Selected for the cross-ministerial drug development support project

2012

Jun

Certified as an innovative pharmaceutical company

2010

Dec

Received Knowledge Economy Minister's Award for Korea Technology Awards

Dec

Received the Minister of Health and Welfare Commendation for contributions to the healthcare industry

2009

Jul

Selected for the Knowledge Economy Ministry's Smart Project support project

2007

Oct

Established Biotech Research Institute and Central Research Institute in Suwon

Aug

Established HanAll Pharmaceutical International(HPI) in U.S.

2002

Apr

Established Seoul Research Center

Feb

Estiblished social welfare corporation, House of HanAll